Letter for the month
Hello Folks, I hope that you all had a good Easter time, the school break and the main Easter week-end. Children back at school now looking forward to the Whitsun half term break that ends with Messy Church at Witnesham village hall & St Mary's Church on Saturday 3
rd
June with the birthday of the church on Sunday 4
th
June – the day of Pentecost.
I further hope that the overall story (fact) of Easter is known – the betrayal of Jesus; the Crucifixion of Jesus and the Resurrection of Jesus. But what is often not known is that as Jesus was being betrayed and arrested He spoke peace and did a miracle. It happens when one of Jesus' disciples takes a sword and cuts off the ear of one of the people arresting Jesus. The miracle is that Jesus picks up the ear and restores it back in place. The words spoken have continuing significance through the years. Jesus said "Put away your sword for all who take up the sword will perish by the sword".
[Matthew 26v52]
Although not said but implied is that violence begets violence. Surely this is being seen around the world and locally each day? As I write it is only a few days after another chemical attack in Syria, a few weeks ago there was the Westminster Bridge atrocity where the man was shot dead. As you read this there may have been a retaliatory attack on the Syrians or whoever used chemical warfare. And so the cycle of violence continues achieving little only unnecessary death of innocent people. Is there an answer to this? Yes if all countries and groups were willing to lay down arms but I guess that is not likely to happen. Individually it is down to us on how we act and react to those people around us, whether they are like us or different. Do we take up the sword, not literally but in attitude to condemn or dismiss those different to us or do we embrace others, sharing, caring, and accepting others as all part of God's creation or at least as fellow human beings.
Jesus' crucifixion and resurrection brings reconciliation firstly between us and God, and because of that it can bring reconciliation between each other. Pentecost is the time we Christians celebrate the reality that God fills us believers by His Holy Spirit and so we are helped to accept others and endeavour to live in peace.
Pastor
Andrew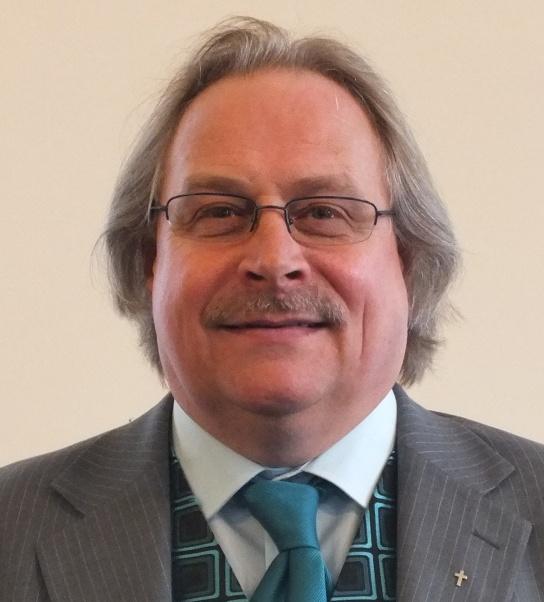 Andrew is at the Church most Tuesdays and Wednesdays when not out visiting, do drop in if you are passing he will be pleased to see you.



Pastor Andrew Croft

If you have a more pressing pastoral need go to our contacts page for details, if he is unable to answer the phone please leave him a brief message and contact number.